St Michael and All Angels (Michaelmas)
This Sunday we are observing the Feast Day of St Michael and All Angels (Michaelmas), which falls on next Wednesday 29 September, and the texts of the day are uniquely dramatic and visionary, describing the angelic host and the war in heaven. They have inspired composers throughout the centuries to create settings of thrilling immediacy. I understand from history that Michael is often known as the patron saint of the military, police officers, firemen, and any people who work in dangerous conditions. St Michael the Archangel has inspired artists and musicians, accompanied souls on their journey at the end of life, and has been described as protecting God's people throughout the ages. I see the Royal Flying Doctor Service as the Angels of the outback to isolated families in need. Likewise, many of us have been aware throughout our lives of a 'Guardian angel'. Two other Angels are mentioned by name in the Bible. There is Gabriel, entitled 'the Hero of God', who announced to Mary that she would conceive and bear the Messiah, and the second is Raphael, entitled 'God's Healer', who healed Tobit's blindness.
Angels are still part of the Church's theology and teaching. In the Eucharistic Prayer we recite these words:
Therefore, with Angels and Archangels, with Apostles and Prophets, with holy men and women of every age we proclaim Your great and glorious name.
While recognising Angels as part of mythology, and as a poetic expression of a means of connecting God with humanity, they provide for us a focus, and our first reading from the book of Daniel describes a visionary glimpse into heavenly places where there are myriad throngs of Angels. They are a way of giving us a picture of 'the majesty and glory of God's love and beauty'.
Poetry is a way that we can connect with the majesty and awesomeness of creation. In times of need we can all be guardian angels to one another as we journey through life. This Sunday we join in prayer and worship to share in God's vison for all.
Blessings, Ray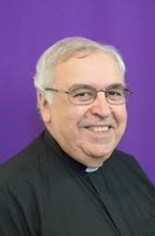 Rev'd Canon Dr Ray Cleary AM
Locum Vicar, All Saints
A lifelong advocate for many of the most disadvantaged groups in society