Feast of All Saints and All Souls
I have just been rereading a book on Anglican Social Theology and the Christian Socialist movement in the United Kingdom. The book provides a detailed background on the influence of Archbishop William Temple and his writings and participation in the formation of the Welfare State in the United Kingdom, including the National health Scheme. Temple was an inspiration to many lay and clergy of the church in his understanding of mission and the responsibility of government to govern not for the few or the privileged but for all men, women and children from all walks of life. His writings reflect the unconditional love and generosity of God irrespective of who you are and your place in the community. This same ethos is present in the work of our Anglican welfare and justice agencies in Australia and includes the Brotherhood of St Laurence, Anglicare and Benetas. It also extends to our mission to overseas countries and is reflected in the work of our mission agencies such as ABM, Anglican Overseas Aid and Tear, to name three. I know there are members of the congregation here in Thornbury and Northcote who have over the years served these agencies and raised funds for these and other agencies. The agencies along with Church leaders advocate strongly for those in need and with our own voice as individuals and a parish, are voices for the voiceless. Increasingly our voice appears muted or ignored. I suspect we need to discover new ways of getting our message across in today's media and community.
Today we are observing two Feast Days of our liturgical calendar. The days are set aside for us to recall all the saints of the Church, known and unknown, and to call to mind those who have been part of the faith community here at St James and All Saints as well as loved ones. We also remember those who have influenced and encouraged us on our faith journey. We look back with gratitude. In today's Gospel the grief of Mary and Martha turns from grief to joy. The miracle in today's Gospel is a reminder and pointer to us of the coming death and resurrection of Jesus, embracing the life-giving power of God.
Shalom, Ray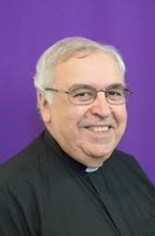 Rev'd Canon Dr Ray Cleary AM
Locum Vicar, All Saints
A lifelong advocate for many of the most disadvantaged groups in society