Twentieth Sunday after Pentecost
Thank you to all who have participated in our ongoing discussions at All Saints and St James over the past two Sundays. We all acknowledge the limitations of Zoom, but this has not stopped us from seeking to move forward in a shared and collaborative way. The discussions have been open, honest, creative, and positive. I have been heartened and encouraged, as I know you have also, by the willingness of everyone involved to plan a future of creative community ministry.
Central to this has been the expressed wish to seek a meeting of the incumbency committee with the bishop as soon as possible to begin the process of finding a suitable priest to work alongside and lead the community for the next three years while at the same time exploring new initiatives, renewed worship patterns, community support, signage and promotion and shared fellowship that enriches the spiritual life of everyone. The idea that 'together we may grow' has been central to the discussions building on the heritage of the past. We have been blessed by the past, challenged in more recent times but I sense a renewed spirit and enthusiasm for the future that brings hope and possibilities.
I am now planning to report to the parish council on 21 October the outcomes of the meetings with the hope that we can prepare a recommendation for the annual parish meeting in November. In the meantime, both congregations have begun to implement initiatives to build confidence and as soon as possible shout out, 'We are open for all'.
Let me quote the words of Michael Fallon:
'The Jesus portrayed in the New Testament lived in a real world. He was concerned with real people, naming and opposing anything that made it difficult for people to live. In so doing, he incurred opposition and rejection, hence his death. But he also won the confidence of the oppressed. They trusted him and so learned to trust God, and to believe in themselves, in their world and their future. This was because Jesus revealed the powerful love of the redeemer God. This is the challenge to us, his followers. Our world has so much idolatry, false religion, and even false Jesus. If we have the faith enough to present Jesus as the answer to our modern ills, we need to make sure that it is the real Jesus of Nazareth that we present.'
This surely is to be the essence of our planned future ministry.
Blessings, Ray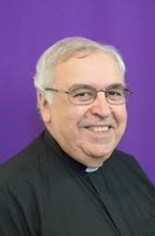 Rev'd Canon Dr Ray Cleary AM
Locum Vicar, All Saints
A lifelong advocate for many of the most disadvantaged groups in society