Nineteenth Sunday after Pentecost
I want to begin by thanking all of you who have joined us for our Zoom services on Sunday and at other times. I appreciate it is not the same as being in Church and I suspect it will be still some time before we can safely do this. I understand that some do not have the technology, others do not see the experience as helpful and prefer to live-stream from elsewhere while some read the prayers and readings at home courtesy of Fr Ken's effort to circulate the service. I also hand deliver the Weekly News and service booklets to a few people. Staying together and being connected during the current times I appreciate is a challenge for us all and I am seeking your advice as to how we move forward once the lockdown is over. In discussions with clergy, it is of great concern that most churches have lost members during earlier periods of lockdown and that people are slow to return. On the other hand, it is true that some have rejoined.
I view with great concern the possibility that there will be imposed rules that may exclude unvaccinated people from participation in religious activities. The Roman Catholic Archbishop has spoken publicly about this issue with warnings and seeking exemptions for worship and prayer life. Our own Archbishop has taken a more cautious approach with a wait and see agenda and has also raised the option of having separate services for those vaccinated and those unvaccinated. As I said I am in a quandary about this matter. I am fully vaccinated and want to exercise my ministry to everyone. Please let me know your thoughts.
Our Gospel reading for this Sunday will be distressing to some. Mark throughout his gospel is provocative and controversial. Today's Gospel is a reminder that the world has changed and that the Gospels were written in a time of patriarchy and limited medical and scientific knowledge. It reminds us that we live in a world of broken relationships and hurt. Our task is to bring healing, restoration and hope in the world of today with the unconditional love and grace of God. More on Sunday at 10 AM.
Blessings, Ray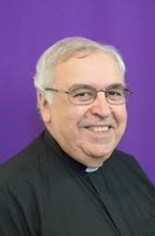 Rev'd Canon Dr Ray Cleary AM
Locum Vicar, All Saints
A lifelong advocate for many of the most disadvantaged groups in society